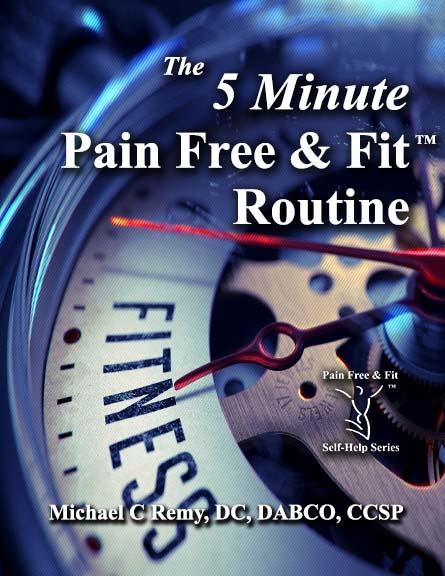 Get The Complete
Pain Free & Fit TM
5 Minute
Healing Exercise Routine NOW!
For those who are "on the go", with "no time for exercise", or those who "hate exercise", but still want the pain relieving and fitness benefits of the Pain Free & Fit TM System, our 5 Minute Workout can be done anywhere and anytime, without any equipment or additional space needed. This is the most efficient way to make serious changes in your pain and fitness levels in the least amount of workout time. 20 specialized exercises and 9 stretches have been created from our system which correct posture and mechanics throughout your entire body. While not as complete a healing program for a particular body region as our other "region specific" programs in the Pain Free & Fit TM Self-Help Series, we have sacrificed completeness for time. The theme of this program is getting the most benefit in the least amount of time possible. The result is a healing "power punch" stimulus for musculo-skeletal pain relief and fitness. The pain relieving and healing stimulus provided by these workouts can be enjoyed in one or two 5 minute sessions per day, or in multiple 1-2 minute sessions throughout the day. The versatility in workout time, location, and frequency ensures that even the busiest schedules can accommodate the benefits of healing exercise.


The 5 MINUTE Pain Free & Fit TM Routine
(Part of the Pain Free & Fit

TM

Self-Help Series)
Format:

PDF

Digital ebook, 78 pages
Publisher: North Shore Health & Fitness Associates, Inc.
Publication Date: 2017
Author: Dr. Michael C Remy, DABCO, CCSP
Chapters and Content

:
1

- Understanding Pain and Injury,
How Injury Occurs,
The Body's Response to Injury,
The Inflammatory Cycle and What Goes Wrong,
Dysfunctional Healing,
The Root Causes of Injury,
Your Unique Pain,
Traditional and Alternative Treatments,
What You Can Do To Help Your Body Heal
2- Self Analysis of Posture & Body Mechanics,
Your General Body Posture, Analysis of Posture & Alignment, Analysis of Body Mechanics, Global Analysis, Local Analysis

3- Correcting Posture, Mechanics, and Stability (RPI), Local Corrections, Global Corrections, Combining Local and Global RPIs

4- The Routine, The 5X5 Posturcise

TM

Self- Corrective Warm-up, The 5 Main Exercises, The 14 Supportive Exercises

5- The 9 Pain Relief Stretches
6- Putting It All Together, Basic Rules of Corrective Exercise, Workout Frequency and Duration, Stimulus Variety, Workout Anytime and Anywhere, Building Your Own Routines, Mini Workouts, Example Routines
Get A Full Body
Analysis, Pain Relief & Healing Exercise Workout
DOWNLOADED IN SECONDS
To Begin Your Pain Free & Fit Lifestyle TODAY!
The 5 Minute
Pain Free & Fit TM Routine
Note: Clicking this Button will redirect you to our secure payment and distribution site SENDOWL.com to complete your purchase
Note: Clicking this Button will redirect you to our secure payment and distribution site SENDOWL.com to complete your purchase