Walk Away Back Pain
is a revolutionary new approach to self-managing back pain by combining walking modifications and custom spine stabilization exercises. By slightly changing your walking form, a healing stimulus is provided, which helps to reduce pain and condition your back for greater physical abilities.
Backed by over 150 scientific research studies, Dr. Remy has created the easiest way for most people to overcome their back issues by simply changing the way they walk

.
Both
walking and spine stabilization exercises are highly recommended for most cases of ongoing back

pa

in by leading authotities in back pain research and treatment. By following a targeted program based on your unique back function and conditioning levels, your chances of success are optimized.
The program can be individualized based not only on your unique condition, but also on your preferences. Whether you wish to simply modify your walking form with a few powerful healing tips, create a specific therapeutic walking self-rehab program for yourself, or be guided step-by-step over time to greater levels of pain relief and back fitness, the program is designed to fit your unique needs and preferences
.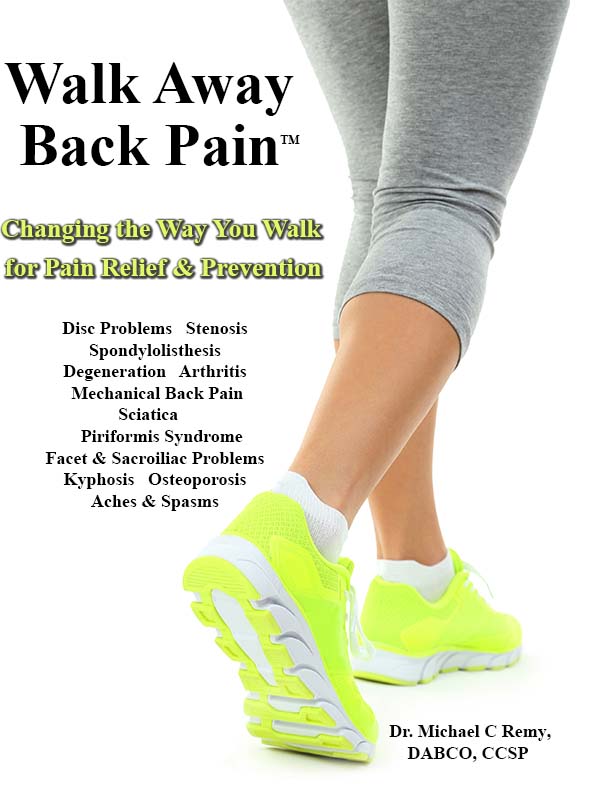 There are two ways to enjoy the benefits of Walk Away Back Pain. The first is our eBook which explains in detail how walking modifications and the supportive exercises can be tailored to your unique back function and condition. The second is our Step-by-Step Program TM which guides you through each step of healing and back fitness with new workouts and tips each month similar to working with a personal trainer. Additional pain relief exercises, pain relieving nutrition and other contemporary chronic pain self teatments are included in both the eBook and the Step-by-Step Program.

Because the cutting edge approach to back pain treatment is currently a multi-dimensional "bio-psycho-social" approach that includes exercise, nutrition, posture and repetitive movement corrections, and considerations of various psychological and social issues that can prolong chronic pain in the central nervous system, the eBook and Step-by-Step Program TM both cover many of these factors and provide various self-help methods to amplify your chances of healing. Much more than a physical back reconditioning program only, Walk Away Back Pain offers a fully comprehensive and multi-dimensional approach to back pain that is simply unavailable anywhere else without employing your own team of expert doctors, therapists, trainers, and rehab specialists.

Both the eBook and the Step-by-Step Program TM allow you flexibility to reach your goals. The program was designed to fit all back conditions and everyone's needs from the busiest of schedules, to those who hate exercise, from the young to the old, and from the weak to the strong. Both the eBook and the Step-by-Step programs are designed to relieve pain, protect your back from future problems, and return you to being more physically active with confidence in your back. As opposed to expensive personal training and rehab sessions that are often generic in nature, Walk Away Back Pain takes advantage of the fact that we all walk slightly differently, and if correctly modified, walking can provide your back with the healing and conditioning stimulus it has been yearning for.

The Walk Away Back Pain eBook contains all of the self-management skills needed to improve your back fitness for pain relief and improved function. It also teaches you techniques to decrease any systemic inflammation that may be aggravating your condition, re-wire your central nervous system to calm its tendency to maintain chronic pain, and how to safely condition your back to return to the physical lifestyle that you have been avoiding for far too long. It is overflowing with the skills and know-how needed to turn the tables on your back pain from "it controlling you" to "you controlling it".
Just look at what the 213 page, 23 chapter eBook contains:
Chapter 1- Intro to Understanding Your Back Pain
Chapter 2- The Problem with Generic Walking
Chapter 3- How Walking Helps Back Pain
Chapter 4- The Mechanical Faults that Cause Back Pain
Chapter 5- Self Analysis of Body Mechanics that Cause Pain
Chapter 6- RPI & Neutral Spine for Relief & Protection
Chapter 7- Warm Up Exercises for Walking Pain Relief
Chapter 8- 10 Steps (Modifications) to Walk Away Back Pain
Chapter 9- Building Your Back Fitness Walking Program
Chapter 10- Supportive Exercises
Chapter 11- Supportive Stretches
Chapter 12- Walking Modifications for Specific Diagnostic Back Conditions (Disc Problems, Degeneration, Arthritis, Stenosis, Spondylolisthesis, Sacroiliac, Facet & Piriformis Syndrome, Sciatica, Kyphosis, Scoliosis, Osteoporosis, Compression Fx)

Chapter 13- Walking Slopes, Stairs, and Uneven Terrain
Chapter 14- Posture Tips for Back Pain Relief
Chapter 15- Nutrition for Back Pain Relief
Chapter 16- Fat Loss and Back Pain
Chapter 17- The Mind-Set for Overcoming Back Pain
Chapter 18- Other Pain Relief Exercises & Techniques
Chapter 19- The Express (Cheat Sheet) Walking Method for Back Pain Relief with Minimal Effort
Chapter 20- Conditioning a Better Back
Chapter 21- Putting It All Together
Chapter 22- Why You May Need The Step-by-Step Program TM
Chapter 23- References and Suggested Reading
Walk Away Back Pain
eBook $29.99
Both the eBook and the Step-by-Step Program TM also offer walking and exercise tips for specific diagnostic conditions that typically are helpful in disc herniations, bulges, degeneration, spinal stenosis, arthritis, spondylolisthesis, scoliosis, osteoporosis, kyphosis, compressioin fractures, sacroiliac problems, sciatica, facet and piriformis syndrome and more.
The Step-by Step Program TM
The Walk Away Back Pain Step-by-Step Program TM ensures your best chances of back relief and fitness by addressing the most common pitfalls with any healing or fitness program. Numerous studies have shown that approximately 50% of people who begin an exercise program will drop out within 6 months. For back fitness and healing, that statistic only means ongoing pain and problems for many sufferers.
Lack of motivation, boredom, failure to track results, inconsistency with the workouts, poor social support and coaching, as well as a lack of variety and progression all are leading reasons why any exercise program fails. Fortunately, research has shown that when these types of behavioral motivations and support are addressed in an exercise program, nearly 80% of participants stay with their fitness routines and enjoy the long-term results that only consistency in partipation can offer.
This is exactly why Dr. Remy created the Step-by-Step Program. He found that many of his patients who initially failed to be consistent with their walking and exercise recommendations finally found the results they were looking for when they signed up for regular personal training rehab sessions. The same step-by-step guidance, carefully planned progression, individulaized goal setting and progress tracking, and motivation/consistency support provided in his personal training sessions became the foundation of the Step-by-Step Program.

If you are challenged with staying consistent with exercise, lack self-motivation, feel overwhelmed with learning new exercises and healing methods, or just plain despise trying to figure things out for yourself, take a look at what the Step-by-Step Program has to offer. It is as close as you can get to having Dr. Remy personally train you in back fitness to help in your journey of overcoming your back condition.
Your monthly subscription to the Walk Away Back Pain Step-by-Step Program includes:
1- A new walking program is sent to you monthly detailing each week's walking and supportive exercise workouts and goals that carefully progresses your back fitness over time. Each week, different walking modifications (focus points) and exercises are emphasized, as well as a carefully planned strategy of exercise intensity, volume, and progress. Up-to-date walking techniques and methods keep your walking from becoming boring.
2- New supportive and pain relief exercises are given each month as well, which rotate and gradually progress your back fitness past pain relief and into greater amounts of back protection and pain prevention. As your back fitness improves, so does your ability to become physically active, helping your fit back to participate in the activities which you have previously avoided.
3- Behavioral exercises to help you improve the various psycho-social aspects of your chronic back pain that have been keeping you from enjoying your life to its fullest.
4- Nutritional tips and recipes to promote healing and pain relief, while decreasing systemic inflammation, thus improving not only your back pain, but your overall health.
5- Movement and back stability strategies to allow you to lift, bend, carry and perform daily activities without pain.
6- A program that takes you from any stage, age, or physical condition in your back fitness towards realistic individual goals, which the program helps you to personally develop. From total beginners to competitive athletes, the program has your back covered.
7- Short cuts and time saving methods to allow maximal improvements in minimal time and effort.
8- Time proven personal training tips that pull you out of excuses and into the best shape of your life.
9- The latest in back exercise research, distilled down into practical applications to ensure you are getting expert contemporary advice.
10- Weight loss and body fitness coaching to assist in your back pain relief, body image, and overall health.
11- Scheduling and prioritization techniques used by the world's most successful personal trainers to ensure continual progress.
12- Advanced motivation skills to help you connect your back and fitness goals with your personal values, identity and life's desires.
13- A proven system that gets results, while saving you time and money, and the inconvenience of hiring a personal trainer or going to back rehab sessions.
14- A TOTAL GAME PLAN for improving the condition of your back, optimizing your chances of pain relief, prevention, and getting back to the activities and lifestyle you have been limited from.
The Walk Away Back Pain Step-by-Step Program TM
Monthly Subscription $10.99 per Month
(Auto Charged To Your Credit Card Each Month. You May Cancel At Any Time)
Note: Clicking this Button will redirect you to our secure payment and distribution site SENDOWL.com to complete your purchase
Note: Clicking this Button will redirect you to our secure payment and distribution site SENDOWL.com to complete your purchase